When:
August 19, 2017 @ 1:08 am – 2:08 am
2017-08-19T01:08:00+00:00
2017-08-19T02:08:00+00:00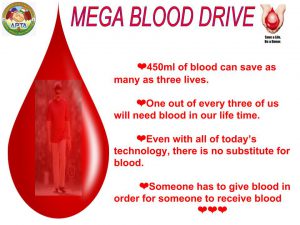 This year marks the completion of 40 years of Megastar Chiranjeevi's stellar acting career bringing boundless joy and ecstasy to millions of fans and followers of telugu cinema. To commemorate this milestone with the noble act of Blood Donation, Mr.Ravanam Swami Naidu organized 400 blood donation events all over India and reached out to the global community to expand similar activities in the United States of America.
Inspired by this call, Mr. Vijay Repalle is shouldering the responsibility of coordinating and organizing 40 Blood Donation events across the United States of America in association with APTA (American Progressive Telugu Association), local American and Telugu organizations and most importantly, with the help of "Blood Brothers of Mega Star Chiranjeevi".
Mr.Repalle shared the details of  the events conducted so far in 22 different states,  which proved to be overwhelmingly successful with enthusiastic participation from more than 356 blood donors. According to the reports from recipient medical institutions more than 1068 people have been beneficiaries. In the following weeks, another 20 such events have been planned and nearly 400 plus people have already pledged their support and willingness to donate blood.
Various Local and National telugu organizations KalaBharathi, ATA, NATA, TATA, Telangana Development Forum, TFAS, NJTA, SDP actively participated in all the drive. Redcross representative Tommy Cole expressed his happiness about exceeding the target of the drive. He also conveyed that our drive got special bags filled in for processing last night and reaching needy cancer patients in New York today.
Mr.Repalle also expressed gratitude to Mr.Swami Naidu and Charan for noticing and recognizing the exceptional achievements and ingenuity of the efforts put forth by fans and APTA. Many of Chiranjeevi's fans are happy and upbeat about being able to channel their energies in a very productive service and in a scale which has been unprecedented in the context of any other cinema celebrities. Mr. Repalle emphasized that they would like to make this noble service a tradition and conduct it every year.
చలనచిత్ర రంగంలో మకుటంలేని మహారాజుగా అందరిగుండెల్లో ఖైదీగా ముద్రవేసుకున్న, మెగాస్టార్ చిరంజీవి 40 సంవత్సరాల సినీ ప్రస్థానాన్ని పురస్కరించుకుని, స్వామి నాయుడు గారు భారతదేశంలో 400 రక్తదాన శిబిరాణాలను నిర్వహించాలని పిలుపునివ్వడం జరిగింది. అదే స్ఫూర్తిగా తీసుకుని విజయ్ రేపల్లె గారు, ఆప్త తెలుగు సంస్థ ఆధ్వర్యంలో,  అమెరికా సంయుక్త రాష్ట్రాల్లో ఉన్న చిరంజీవి అభిమానుల మరియు ఇతర తెలుగు సంస్థల సహకారంతో 40 రక్తదాన శిబిరాణాలను నిర్వహించాలని తలపెట్టారు. ఈబృహత్తర కార్యక్రమ ప్రారంభోత్సవానికి వర్జీనియా రక్తదాన శిబిరం వేదిక కాగా, మేరీల్యాండ్ రాష్ట్రం ప్రారంభోత్సవ సభకు ఆతిధ్యమయింది. ఈ కార్యక్రమాలకు స్వామి నాయుడు గారు ముఖ్య అతిధిగా విచ్చేసి రక్తదానం చేసిన చిరంజీవి అభిమానులను, తెలుగు సంస్థల సభ్యులను అభినందించారు. ఈ రక్తదాన శిబిరాలను ప్రోత్సహించే కార్యక్రమంలో భాగంగా స్వామి నాయుడు గారు న్యూ జేరిసీ మరియు టెక్సాస్ రాష్ట్రాల్లో నిర్వహించిన కార్యక్రమాల్లో కూడా పాల్గొనడం జరిగింది.
ఇప్పటి వరకు 22 రాష్ట్రాల్లో రక్తదాన శిబిరాలు నిర్వహించగా, 356 మందికి పైగా రక్తదానం చెయ్యగా అది 1068 మందికి పైగా సేవలందించిందని హాస్పిటల్స్ వర్గాలు తెలియచేశాయి. రానున్న రోజుల్లో మరో 30 శిబిరాలలో మొత్తం 400 పైగా దాతలు పాల్గొనే విదంగా రక్తదాన కార్యక్రమం జరుగుతుందని విజయ్ రేపల్లె గారు తెలియ చేశారు.అయితే, ఈ సేవ కార్యక్రమాలను చక్కగా నిర్వహిస్తున్నారని అభిమానులను మరియు ఆప్త సంస్థను స్వామి నాయుడు గారు మరియు చిరంజీవి తనయుడు రామ్ చరణ్ గారు వివిధ సందర్భాలలో తెలియచేయడం విశేషం. 
ఇలాంటి కార్యక్రమాలు ఇప్పటి వరకు ఎటువంటి సినిమా నటులకు జరగలేదని, ఈ కార్యక్రమం ద్వారా తమ అభిమాన నటుడు చిరంజీవి భారతదేశం మరియు అమెరికాలోను సేవచేసినవారు అవుతున్నారని అమెరికా లోని చిరు అభిమానులు సంతోషాన్ని వ్యక్తం చేస్తూ, అందరికి ఉపయోగ పడుతున్న ఈ కార్యక్రమాన్ని మున్ముందుకూడా ప్రతి సంవత్సరం నిర్వహిస్తామని తెలియచేశారు.