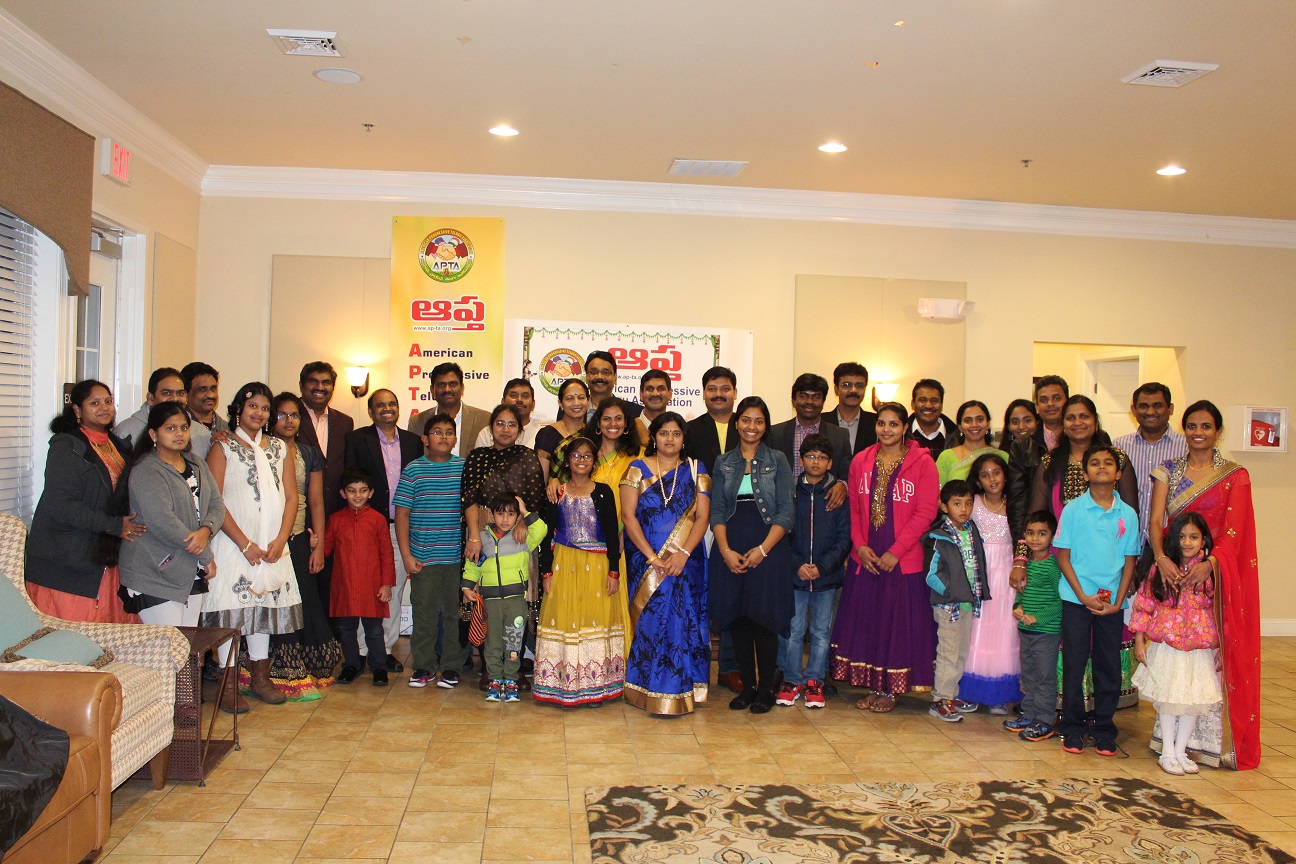 When:
January 17, 2016 @ 9:30 am – 4:30 pm
Atlantic/Azores Timezone
2016-01-17T09:30:00-01:00
2016-01-17T16:30:00-01:00
APTA Sankranti Meet at PA on 01/17/2016
"It was such a wonderful and successful event at Pottstown, PA by the PA and DE Aptulu". The event started at 11 am and continued till 6 pm. It gave an opportunity for all our Aptulu to share their love and create bonding amongst the members.
https://goo.gl/photos/rWPmp6xGpjP9gYQ57
The event started with a welcome note by Thota Prasad garu to all the Aptulu. He thanked everyone for attending the event and shared some of his very own experiences that led to a stronger faith and trust in APTA and explained briefly about the need of this platform and how aptulu are benefited from this wonderful organization. The attendees introduced themselves and welcomed each other graciously. He also introduced some veterans who had key role in the emergence of APTA.
The APTA founding board Chair Sri Summeta Prasad Garu and founding team President Sri Chandu Srinivas Garu gave a brief history on the birth of APTA how it has taken the form and explained about the services the organization has to offer such as ASEP to the crowd. They encouraged 'Aptulu' to continue the momentum and their continuous support to establish a strong platform for our future generations to come.
Along with them joined APTA leadership team and other members that came from NJ and VA to support this event. APTA Vice President Sri JJV Subrahmanyam Garu, Secretary Sri Kocherla Prasad Garu explained how APTA is serving the community. They presented the vision of APTA and new goals for this year. APTA treasurer Sri Ankam Rajesh Garu explained about different donation programs like employer matching donations, dollar a day program and requested everyone to financially contribute and help the organization grow. Javvaji Anand and Banarasi Tippe shared their experiences on how ASEP program benefits the community and also on how they made membership drive a success in NJ.
They were about hundred and eight people including children who attended this event. This was followed by an awesome lunch prepared by all apta mahilalu and everyone including the children enjoyed the food.
Thota Prasad, Javvaji Anand and Inabathini Krishna pledged their contribution to 'Dollar A Day' fund raising program at the venue. With everyone's presence and participation in the event activities such as arrangements at venue, food serving etc. made the event grander.
The Apta Mahilalu were motivated and showed their enthusiasm and volunteered to play an active role in the organization. They also shared their experiences at various places including work place the bias they have to face and that led to a stronger feel for APTA. Tummala Kousalya and Gudiseva Sailaja created a new whatsApp group for PA and DE ladies and added all mahila members to that group. Later on, Apta ladies played "Antyakshari" and "Tambola". The winners of Tambola donated their winning money back to APTA's Student Education Program.
All the members who attended enjoyed the event thoroughly and expressed their happiness to be part of this wonderful group, and wish to have more of these kind of events frequently. When it is time to wrap up it was noticed that some of the families were still having conversations and continued cause of the bonding and relations they were building on this platform.
The APTA team would like to thank Thota Prasad garu for organizing this event and motivate PA and DE 'Aptulu' to come forward and contribute to APTA's growth and encourage to add more members to the PA and DE groups. He came up with a new slogan for all apta members "APTA rakshati rakshitaha". This event connected everyone in this group and established a heart to heart relationship between the members."
https://goo.gl/photos/rWPmp6xGpjP9gYQ57