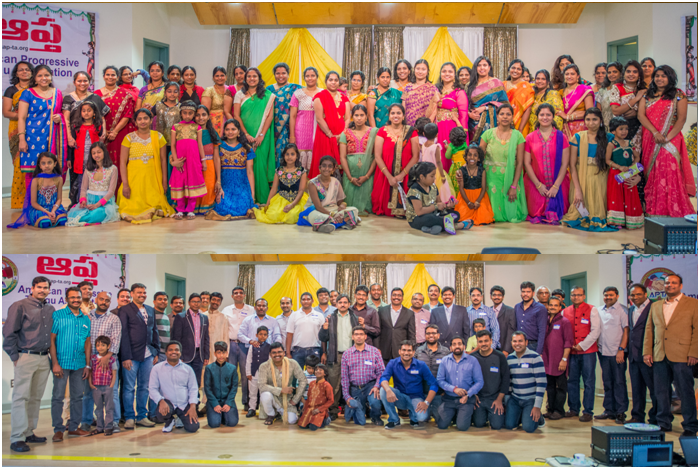 When:
February 28, 2016 @ 12:00 pm – 5:00 pm
Atlantic/Azores Timezone
2016-02-28T12:00:00-01:00
2016-02-28T17:00:00-01:00
Meet and Greet event held on February 28th at Pleasanton Senior Center, CA:
With the kick-off of Regional conferences across USA starting with the DC Conference last year, the APTA West coast team gathered end of 2015 to spearhead the task to start the planning for a West Regional Conference in 2016.We knew right from the get-go that a conference at this level will require a lot of planning to-do and decided to take one step at a time to host a Meet & Greet in bay area in the hopes to take our regular pot-luck gatherings to a newer level as well as use the opportunity to get prepared for the upcoming Regional Conference.
With weeks of planning, the organizing committee headed by Reddiah Prathipati(Board Director) and co-chairs, Vishu Bokkisam(Board Chair), Ramadasu Puli(Ex-RVP) and Durga Peddireddy(ASEP Vice-Chair West) the team was able to organize a successful event with 300 attendees.
The program started at noon with a welcome speech from Radhika Nygapulla (Women's Forum Chair) and Srinivas Chimata (Ex-board Chair) welcoming all our aptulu to the Bay area Meet&Greet 2016. Srinivas Chimata shared some of his very own experiences that led to a stronger faith and trust in APTA and went over topics about the need to grow/expand our community to a greater extent, the need of this platform and how aptulu are benefited from this wonderful organization. The attendees introduced themselves and welcomed each other graciously. He also introduced few veterans who had played a key role in the emergence of APTA. The welcome speech was followed by a prayer by Samhitha Dadi followed by a Kuchipudi dance item by Navya Peddireddy.
The attendees were engaged with a nonstop cultural program which went for 4 hrs. Over 70 kids and adults participated in the cultural programs including a fashion show and scintillating dance numbers from some of our mega family dance numbers. The kids danced to some hit numbers like Run run run, Super Machi , Down down duppa , Cinema Choopistha Mama. Prasad Mangina(Ex-Board Director) and his crew enthralled the crowd with karaoke hits from our community. Purnima Annangi, Jaswanthi Tirumalasetty , Aruna Dasari, Srini Pinisetty , Shailender, Srini Chimata,Hansini, Sai and Prasad Mangina sang to some of the all time hits like Guvva Gorinka, sandepoddulakada , Navami nati , Maate Mantramu , Panchadara Bomma to name a few.
Vishu Bokkisam(Board Chair) shared the history and how APTA originated and briefed the audience about the various services the organization offers such as ASEP. He encouraged 'Aptulu' to continue the momentum and their continuous support to establish a stronger platform for our future generations to come. Durga Peddireddi(ASEP Vice Chair West) shared ASEP scholarship program details , the benefits to our community and also on how we can achieve the target of sponsoring 500 students for this year. Srinivas Chimata invited the APTA Local leadership team and organizing committee on the stage.
             Thanks to the generosity and kindness of four local Aptulu that have Restaurants (Anil Muthyala of Peacock Dublin; Sathish Babu Suda of Paradise Biryani Dublin and Krishna of Hyderabad Biriyani San Ramon) and Raman Sanchula of Hot Breads, Sunnyvalefor sponsoring a sumptuous lunch for all the attendees of the event. Thanks to Satish Pasupuleti who arranged for the media coverage of the event in TV5 and NTV.
All the sponsors, participants and volunteers were called upon stage and felicitated with a trophy at the end of the program. The event ended with Group pictures of all the APTA families and also with individual family picture at the photo booth. There were more than 20 volunteers who had put in countless hours during the past one month with relentless effort and great passion to make this event a grand success.
A special mention to the below team who helped plan and execute the event successfully –
Ramadasu Puli, Durga Prasad Peddireddy — Event Coordination
Veera Babu Prathipati — Food Chair
Aruna Dasari — Cultural Chair for the event
Prasad Mangina — Karoake
Vamsi Annangi, Arun Seelam — Hospitality
Veera Swamy Dadi, Mastan Chimata  — Venue Management
Pradeep — Photography
Rao Chenna — Videography 
Picturess from the event are available at  https://goo.gl/photos/MZyERbpWEnRKMnkC7