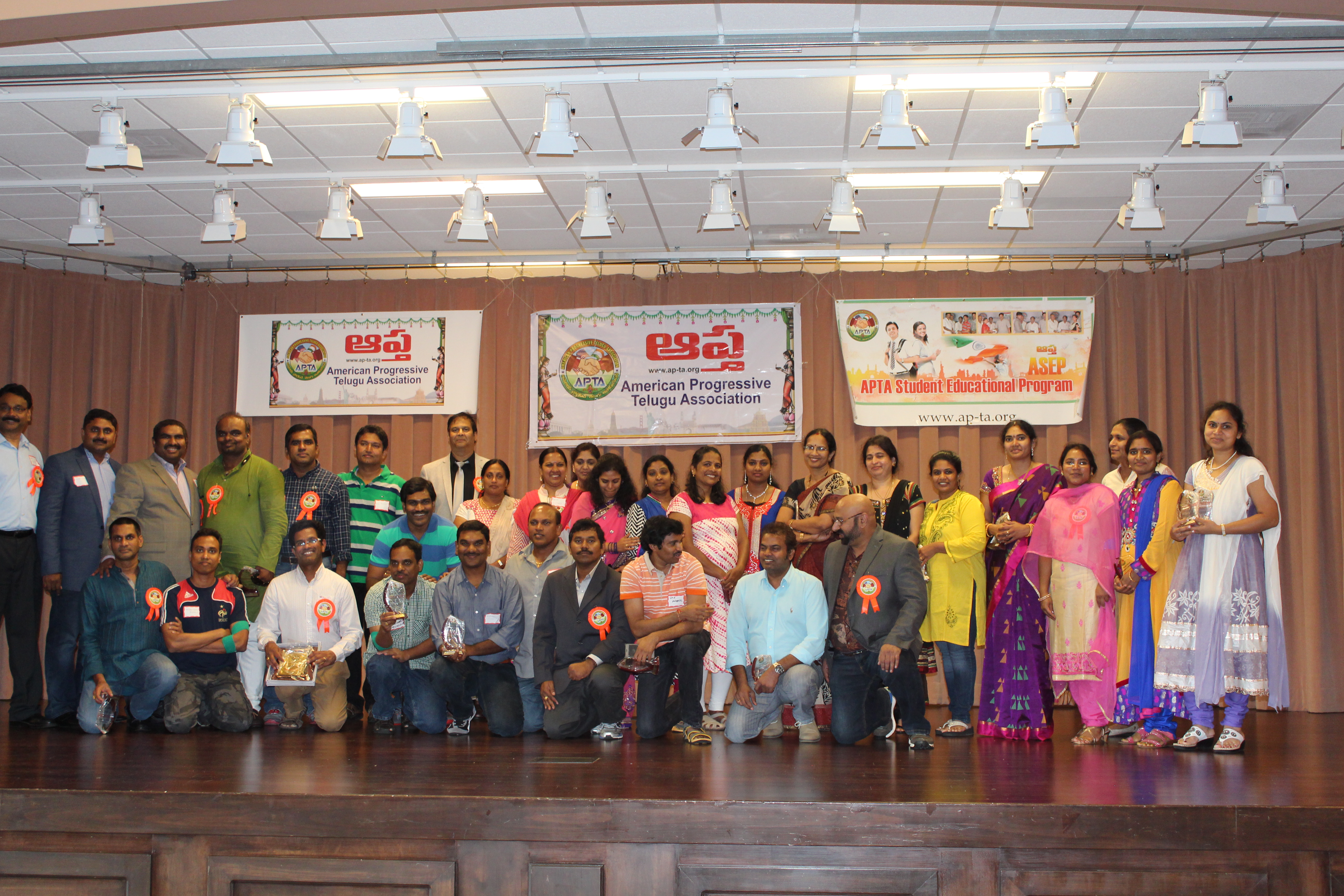 When:
August 20, 2016 @ 3:00 pm – 3:15 pm
Atlantic/Azores Timezone
2016-08-20T15:00:00+00:00
2016-08-20T15:15:00+00:00
వేసవి కాలం లో దొరికే తీయటి మామిడి ,చూడటానికి ఎంత హుందాగా , తినటానికి ఎంత రుచిగా ఉంటుందో , మన న్యూ జెర్సీ సమ్మర్ పిక్నిక్ కూడా అంతే హుందాగా, సరదాగా గడిచిపోయింది, ఎన్నో తీపి జ్ఞాపకాలు తో అందరి మనసులు నింపివేసింది ..
First ever medical camp in US for APTA, yet another Blood drive with maximum contribution from a state, family success meet of our June 11th empire regional event.,…..Empire region మరొక్కసారి తన హుందాతనాన్ని , సోదర భావాన్ని , సహృదయాన్ని చాటుకుంది .
"ఆరోగ్యం లేని మనిషి ఏమి సాధించలేదు" APTA ఆరోగ్యంగా ఉండాలని, APTHULU అందరికి ఆరోగ్యం అనే మహా భాగ్యాన్ని ప్రసాదించాలని, మన APTA AMAP(Medical services team), Dr.Kumar Kothapalli గారి నేతృత్వం లో , సహృదయులు Dr.Ravi Akula ( cardiologist) గారు, Dr.Sai Kolla (neurologist) గారు and Smt.Lakshmi Charitha (physiotherapist) గారి ఆధ్వర్యంలో , US లోనే first ever medical camp conduct చేసింది.
We all know how difficult it is to visit specialist doctors and how valuable their time is. But they spent whole day driving all the from New York ( more than 4 hours one way ). Kudos to AMAP team. 60 + aptulu utilized their services.
Thank you Kumar Garu for giving me the opportunity to work with you in this noble cause. After closely working with Doctors team I got fully energized by positive energy. Especially if you listen to Dr. Ravi Akula Garu you will be inspired to extend your services beyond your limits.
Special thanks to Abhiram Javvaji future Doctor for his volunteer services to Medical Camp, without him it couldn't have been that smooth. I saw same dedication in him as his father.
It was great moment of pride for APTA as New Jersey conducted yet another successful Blood drive, but this time the whole drive was co-ordinated by APTA, we did get certificate of appreciation from NYBlood center ( attached to email ). All credit goes to Satya Vejju Garu, who did a splendid job in co-ordinating everything. It was a delight to watch so many Apthulu volunteering for blood drive. Donors beamed with pride and satisfaction for this divinely gesture. around 40 donars lined up for the drive.
Many thanks to Pranathi Andapalli, Anurag Maganti, Anisha Javvaji and Saisanthosh Chavakula for their volunteer services at APTA Mega blood drive.
Our Star of the Empire Regional conference – Anand Javvaji garu with help of Satya Vejju Garu took the lead of honering the people behind the success of the conference ( Donars and Volunteers ).
"We rise by lifting others ".ఇలాంటి గొప్ప ఆలోచనలు కలిగిన Aapthulu అండగా ఉండటం Empire region చేసుకున్న అదృష్టం. అలంటి గొప్ప donors ని సత్కరించే అదృష్టం కోసం ఎదురుచూస్తున్న క్షణాలు …
"మానవ సేవే మాధవ సేవ" . ఇటువంటి గొప్ప ఆలోచనలు కలిగిన మన volunteer team అండ దందా ఉంటం Empire Region ఆప్తుల అదృష్టం. నిరాటంకంగా తమ సేవలు అందిస్తూ ,Empire region కి వెయ్యి ఏనుగుల బలాన్ని ఇస్తున్న volunteers ' services ని recognise చేసే గొప్ప అవకాశం మనకి కలిగింది కేవలం వాళ్ళ support వల్లే మన regional events successful అవుటున్నాయి అని చెప్పటం అతిశయోక్తి కాదేమో.
New Jersey Monroe Township Mayor రావటం మన ఈవెంట్ కి ఒక ప్రత్యేక ఆకర్షణగా నిలిచింది, thanks to Anand Paluri garu
Food , as usual , was a super hit . Many Thanks to Dawat.
Everyone left all worries to air as they participated in family fun activities.
Bingo was a huge hit. It was delightful to see how everyone was anxiuos to finish it off.
Girls vs Boys Tug-of-war was frolic fun to watch. Girls team jumped in joy as they won over boys.
Mahila Apthulu were in high spirits for musical chairs. Thanks to Ananda Paluri gaari sense of humour, it was fun and joy for all who watched it.
చిన్న పెద్ద అన్న తేడా లేకుండా మన ఆప్తులందరు active గ participatiion తో NJ summer పిక్నిక్, మన ఇంటిలో జరిగే ఒక పండగలా సరదాగా ,సందడిగా సాగిపోయింది
It was truly another amazing family event, by now most of us know by name and face. These kind of events increase bonding between us, Thanks to all volunteers who are behind another sucessfull event.
Photo links :
https://goo.gl/photos/ifF79kPQRHEsaPsWA
https://www.flickr.com/gp/31146517@N00/V81504