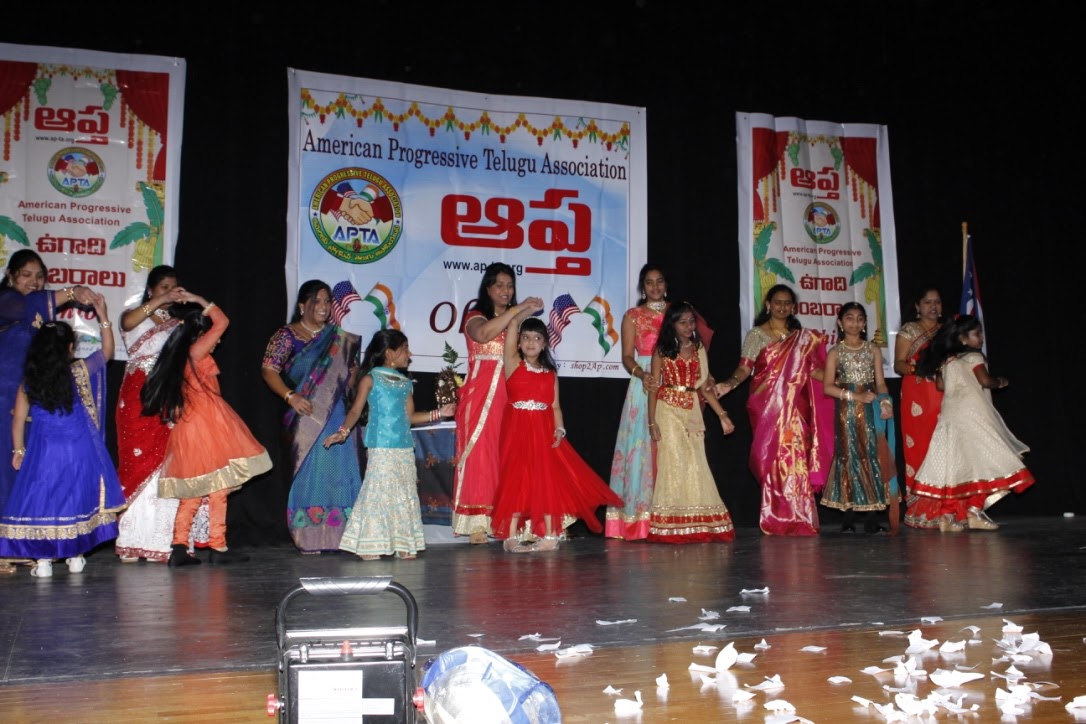 When:
April 9, 2016 @ 8:00 am – 2:00 pm
Atlantic/Azores Timezone
2016-04-09T08:00:00+00:00
2016-04-09T14:00:00+00:00
I am glad to share with all of you that the Ugadi celebrations we had on the April 9th was a grand success with a total of around 250 attendees. This has been the biggest APTA gathering in the Ohio.
APTA Ohio team cordially thanks to each and every participating family by making it as a memorable and family fun event.
Thanks to each and every Ohio core team individual who worked really hard in making this event a great success.
Big thanks to below committee members 
Hanuman Kanaparthi garu and Venkat Pokala garu for working very hard to arrange the delicious food. Venkat garu made delecious 300 laddus and pulihora at home for the event.
Thejo garu, Naresh Badiga garu, Srini Karanam garu, Prasad Kola garu and Ram Nallari garu for decorating the stage and setting up the audio system.
Srinivas Bavisetty garu for being well organized with finance!
Anil Anasuru garu and Ganesh Somarouthu garu for Photography and Video
Thanvi Vatti, Anu Saladi, Indira Gogisetty and Lakshmi Davuluri for training the.We have had many fun packed programs with the kids.
Students(Bharat, Shiva, Satya, Pavan and Gopi ) who helped to make the arrangements.
Naresh Saladi for co-ordinating the cultural activities.
Venkat Kadiam garu for arranging games.Kids enjoyed the games at the event.
 Murali Medidi garu and Ravi Kotti garu for all your efforts to co-ordinate the event.
Last but not least thanks Vijay Badiga garu for coming forward to sponsor the venue. 
Entertainment – We had musical concert with Anjana Sowmya. Thanks Sravan Matlapudi garu for flying all the way from Portland to participate in the musical concert. All aptulu enjoyed to MEGA songs. Enjoyed Surya Macheti gari mimicry. Thanks Surya garu! 
Special THANKS to the APTA leadership team( Gopal Gudapati, JJV and Madhu Vulli ), Srinivas Rayapureddy garu and other members that came from MI and IL to support this event. APTA Ohio team glad to have Prasad Lokam garu at the event. Thank you Prasad garu for attending the event apart from your busy schedule.
The APTA Ohio team would like to thank Ravi Varre garu for making this event very special by surprisingly singing along with Anjana. Ravi garu supported this event each and every aspect where ever possible.
Lalith Vadlamudi and the team – Thank you for taking care of new memberships and ASEP donations.
Achievements –  APTA Ohio team planned the event with the motto to support and fund the ASEP program. Even though we are small team we have managed to get small amount of donations from individuals (before and during the event ) and managed to save $2000 towards ASEP after all the expenses for the event (We will hand over the check to ASEP team). We have got 10 new members joined at the event.
ASEP donations/pledges.
Thejo Vatti garu donated $250 for ASEP and enrolled for Dollar a day program.
Satya Yerramsetty garu $200 and Madhu Ballekari garu $250.
Kumar Bonam garu $200 and Mahesh Samatham garu $100.
Dr Radhika and Dr Srinivas Kollipara garu pledged $1200 per year (Monthly $100).
Pictures link: https://goo.gl/photos/ZkjdqkggWyuKP8qD7
Thanks,
Apta Ohio team