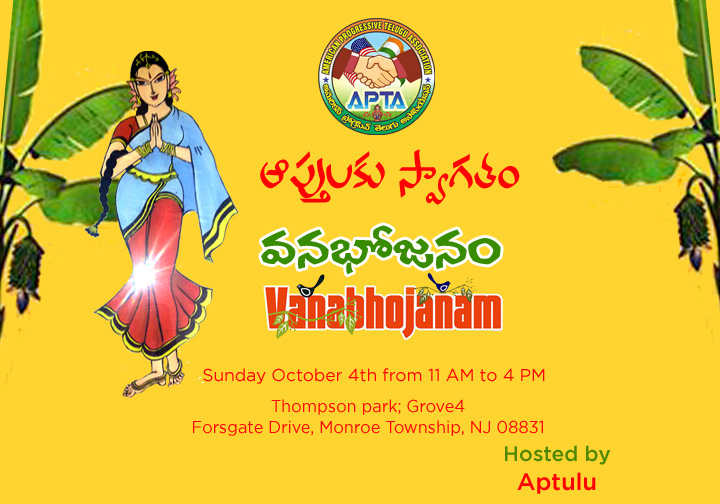 Dear Aptulu,
As you all know, due weather we moved our event to Indoor – Monroe Township Senior Center, located at Intersection of Federal Rd & AppleGarth Road. We are excited to meet all of you.
Kids Program
Competition 1 : Speech in Telugu on any topic of your choice for 60 secs – Three Prizes
Competition 2 : One Sloka and explain in Telugu or English – Three Prizes.
Competition 3: Musical chairs – Two Prizes
Feel free to bring coloring papers and pens/pencils.
Program – Oct 4th Sunday.
| | |
| --- | --- |
| 11:00 to 11:30 | Start Setup |
| 11:30 to 12:00 | Social hour (serve drinks and Bhel) |
| 12:00 to 12:30 | Musical chairs – Start setting up lunch (need volunteers to serve) |
| 12:30 to 1:00 | Crowd Intro (name, town, native place and occupation) |
| 1:00 to 1:45 | Lunch |
| 1:45 to 2:15 PM | Songs and dance |
| 2:15 to 2:30 PM | APTA Video |
| 2:30 PM | start the program |
| | Introduction of Apta |
| | Call on the volunteers |
| | About this event  |
| | APTA ASEP video |
| | Vote of thanks |
| 3:00 – 3:30 | Cake cut, Next Steps |
| 3:30 – 4:00 | Outside tough of war or singing |
| 4:00 PM | Adjourn |
Road Map and Direction – 12 Halsey Reed Rd, Monroe Township, NJ 08831
Anand – 201 207 3214
Subrahmanyam – 201 214 1464
Satya – 609 721 3495
Rajani – 732 986 8999
Regards
Jjv