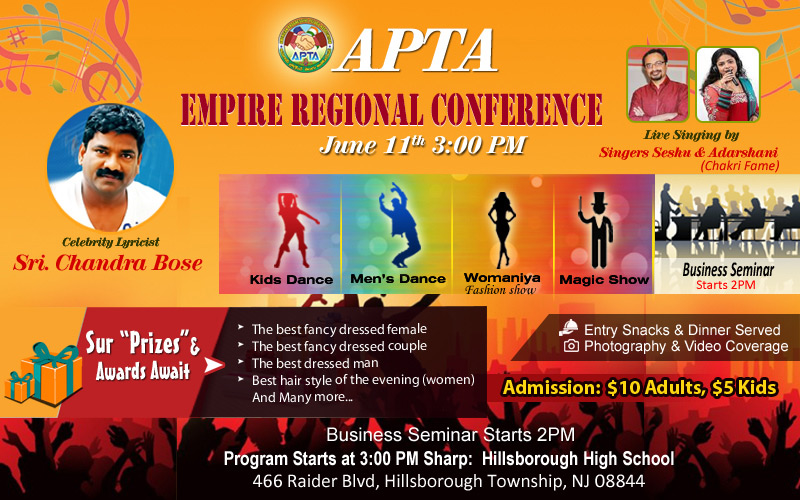 It is with great pleasure and anticipation; we request you and your family's presence at the 2016 Empire Regional Conference in the Hillsborough High school, NJ, on Saturday, June 11th from 3PM onward. We are planning a scintillating program by local talents and artists from India with sumptuous snacks and dinner. The show will include kids program, singing, dancing, fashion show and much more by our aptulu.
We personally invite you to join us at this event and make it a "MEGA" success. Please respond at your earliest convenience to this evite and assist us in successfully planning this great event.
ఉత్తర అమెరికా దేశమున
ఆప్త కీర్తి కిరణములుగా వెరాజిల్లుతూ
రాజసముతో కొలువుతీరిన
మకుటం లేని ఆప్త మహారాజులకు, మహారాణిలకు, మగదీరులకు మరియు వీర వనితలకు
శ్రీ క్రిష్ణదేవరాయుని రాచమర్యాదను తలపింప
Empire Region రాచ పిలుపు..
——–ఆహ్వాన పత్రము ———–
ఉత్తర అమెరికా దేశమునకు మకుటాయమయముగా వెలుగొందుతూ
ఆప్త ఉత్తర అమెరికా నుదిటి తిలకముగానున్న న్యూజెర్సీ రాజ్యమందు
సకల మహాజన సమక్షమున,
సోదర సోదరిమణిల మధ్యమమున,
వీర వరెన్యులకు నిలయమైన ఆప్తను సత్కరింప
ఆప్త హితులను, సన్నిహితులను, సత్మహజనులను గౌరవింప,
అతిధి సత్కారముల సొబగు సేయ
తామెల్లరు విచ్చేయ,
అప్రతిహత వీరవరేణ్యులకు నిలయమైన ఆప్తను సత్కరింప ప్రార్ధన
Empire Region – ఆప్త తూర్పు సంస్థానాధీశులు
వేదిక: Hillsborough High School
466 Raider blvd
Hillsborough, NJ 08844